"Bielsa plays more direct and not so possession like I'm looking for. I pursue more positional attack and always start with the keeper, the pressure is high, low or intermediate.The background is the same, but my way is different now. Before it was more like him in my time at the U of Chile."
BIELSA
In 2007, El Loco was appointed as Chile's manager. During his time, he revolutionized the brand of football being played in the country. Before the 2010 World Cup, there was as much hype about Chile as many 'big' footballing nations, albeit with a more tactical focus. Their attacking and relenting style was a nice change from the bland style of play 'smaller' nations were playing around that time.
Few people in football have had the influence Bielsa has had on coaches, such that the tag Bielsista is often associated with young progressive tacticians. Sampaoli, Guardiola and Pochettino are among a long list of coaches who are branded his disciples.
Who is Bielsa though? Marcelo Bielsa is a very 'crazy' man who believes if footballers were robots his team would never lose. "After having seen 50000 games of football, 28 different modules exist, and not one more".  This quote typifies his obsessive and crazy mind. He is a fundamentalist that never alters his high intensity approach – I don't even know if this is a good or bad thing.
"Football for me is movement. You have to be always running. In football there are no circumstances for a player to stand still on the pitch."
"I am an obsessive attacker. I watch videos of games to attack, not to defend. You know what my method of defense is? "We all run." And since running is a matter of willpower, it's much easier to defend than to create, because creativity requires talent."
Philosophically, few coaches in the history of football can match up to Bielsa. His ideas of football are unique, although strategically, he may lack on certain aspects such as game management. From a tactical point of view, Bielsa sides are known for;
quick off the ball running
Vertical football
Aggresive pressing
Man marking
"They all run up … and they all run down again. Up, down, up, down, up, down. They're fascinating." – Pep Guardiola describing Bielsa's Athletic.
PEP
Guardiola is the most successful coach in the last decade. He's already won 18 major trophies in his short career and more impressively, he achieved success by combining victories with a style.
His Barcelona side was arguably the greatest club side ever. Pep made a decision to become a coach after hanging his boots. Before taking over as Barca's B team coach, he flew all the way to South America to meet Bielsa. In that meeting they talked about football and tactics for about twelve hours apparently.
Pep's Juego de posicion philosophy is a football tactical concept based on numerical superiority. "Positional Play consists of generating superiorities out of the defensive line against those who are pressing you. Everything is much easier when the first progression of the ball is clean." – Lillo. 
Pep is in love with possession of the ball. His teams circulate the ball as a tool to draw opponents out of their structure to exploit space. In order to do this, numerical advantages is necessary to create a passing connection between teammamtes and ensure clean progression of the ball. He believes the quicker the ball goes forward the quicker it comes back. At least 15 passes is vital in progressing ball into forward areas. Pep's sides are known for;
Horizontal circulation of the ball to open up opponents
Verticality
pressing and counterpressing
Numerical superiority and overloads
Positional play
Zonal marking.
SAMPAOLI
The term universatility in football is being discussed a lot now. Bilardo and Sacchi profesied the game will evolve with players constantly rotating positions and occupying the midfield area.
Bilardo says "For me, football will get better and better. But I also know that it will make more and more demands. I even believe that the difference between defenders and attackers will disappear. I see the teams of the twenty first century made up of a goalkeeper and ten players. Without fixed positions. Without specialists. Each one of them knowing everything."
While it seems unlikely this would happen, Pep Guardiola's teams are often associated with this. The closest national team you'll find to this is Chile. Sampaoli's Chile team is very fun. Their constant rotation and off-the-ball movement is exhilarating for us, a nightmare to opponents.
The Argentine coach has used a variety of formations during his time here, predominantly oscillating from a back three to a back four. Like Bielsa, Sampaoli managed Newells.The Argentine followed El Loco's career path by taking over the Chilean National team. Among the many Bielsistas, Sampaoli is the one whose name is often synonymous with Bielsa. Sampaoli is a devout admirer of Marcelo Bielsa, and has often said he's his biggest influence. "When I was younger I went jogging wearing headphones on, but not for music, but for his(Bielsa) press conferences"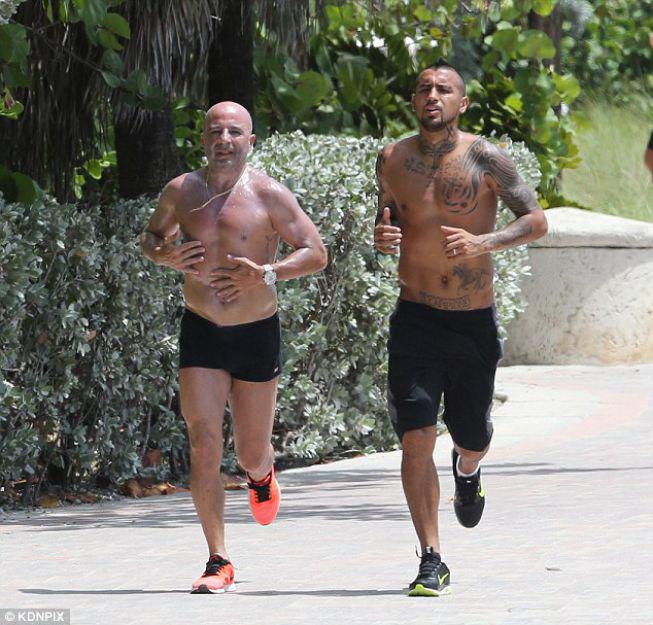 Like his mentor, Sampaoli is very obsessive. He does not allow journalists to see his training sessions as he believes it will be leaked to his opponents.
By half past eight in the morning, he is already on the training pitch and would not leave until 9pm, after which he goes home to study his team and the opponents on his computer according to football journalist Gab Marcotti.
The style of play of his team is often put in the same breath as Bielsa's – Aggressive and relentless pressing, verticality, numerical superiority, a back three system with a classic 10 initially was used a lot.
In the just ended Copa America, there was a slight change in Chile's style of play. Bielsa was the reference point, but now Sampaoli's added a more positional game. There was less focus on vertical football as it was twelve months ago. Chile were still very aggressive, played a lot of vertical passes and run a lot, however they evolved their style of football to a blend between verticalidad and control.
Chile looked to control possession and often played vertically or diagonally when spaces had opened up in advanced areas. Depending on opposition they played with a back three or four, all with the aim of obtaining quantitative superiority.
Sampaoli explained; "I think it will be a little different, with the passage of time we have understood that beyond the vertical, the need for constant attack, there are different ways to approach each match, there will be mixture between possession and verticality, the team needs different situations, the group has matured and understands that the process of preparation of each party have done. We will choose the best, through the development of what happened after the World Cup, "
Chile's average possession pg has risen by over a quarter since the 2014 World Cup. In the past twelve months, Sampaoli has often spoken to Chilean radio about his plan to play more horizontally and control possession as opposed to previous gung-ho vertical football. They had the highest ball possession in the Copa America as well as the most short passes and the highest pass accuracy. There is more emphasis to control possession now and this is very evident in Chile's statistics.  "The positional attack is more important than the direct attack."
Sampaoli and Chile's training sessions are guarded by Policemen. He does not allow random people onto the scene of his sessions. "I am all the time seeing who's going to find out. We do not want to inform the opponent. There are technicians who are not affected by it, but I do and it makes me watch. A detail or set piece can be significant to win or lose . This has become an obsession for me. " Chilean journalist Diego Morini was however able to sneak in and according to him, Sampaoli divides his training field the same way Pep Guardiola does.
The above picture is a shot of Bayern's training field which has been divided into many portions. Withing each portion each player has instructions and specific duties to perform often with the ball as the reference point.
"When I was younger, I consumed up to 12 hours per day of pure Bielsa lectures and conferences, he was obsessive. Now I see football with other nuances and appeals more to me without so much vertical attack and more possession of the ball, as does Guardiola's teams. "Sampaoli told Radio Universe
Bonini, Bielsa's trusted assistant "Marcelo gave to Sampaoli a group of players with the idea of ​​being protagonists and conviction of not less than anyone. We were lucky that he bequeathed and we are now trying to add positional game, a continuous attack, graduating verticality with horizontality"