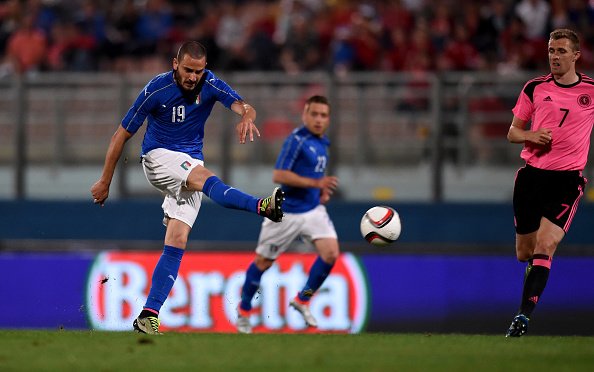 Given their record in major European competition, the Italians are always mentioned for success. Conte possesses a very flexible squad which can be used in different formations and systems of his choice, despite lacking in attack.
Against Scotland, Conte set up his team in a similar shape to his conquering Juventus team. Bonucci who is world class in offense played as the most central and deepest defender beside teammates Chiellini and Bazargli. Darmian played as the left wingback while Candreva played on the right side with a generally proactive and offensive starting point. De Rossi played the famous Italian regista role just ahead of the centerbacks and was partnered with Florenzi and Giaccherini in the middle. Up top Graziano Pelle was used as a targetman while Eder playing beside him moved and dropped into the pockets to knit the attack together.
There were caveats to Italy's play. In terms of defensive organization and counter-pressing, the Azzurri was brilliant. In the final offensive phases however they were rather poor. That is, the creating and finishing aspect of their game was lacking. I'm looking you Candreva and all your 40 yard shots.
Let's focus on the good. Yes lets focus on Bonucci. In terms of playmaking ability, Bonucci is one of the best in the world. The Azzurri defender controls the direction of play and is imperative to his team's offensive structure. Scotland didn't press high and positioned their forwards to shadow passing lanes into midfield giving a lot of space to the deeper players to get touches. This led to a lot of possession in the deeper areas, though the centerbacks tried to move the ball into the forward areas as soon as possible.
As mentioned above, the distribution and counterpressing of Bonucci who was named man of the match wasn't the only bright thing about Italy's approach. Their entire defensive organization and counterpressing was impressive. Aided of course by Scotland's cautious approach, Conte's organized setup reduced any potential threats by stopping Scotland possession before they even entered the Italy half. The Italian's pressing was based on intelligent pressing triggers. For example, Eder was more oriented on the deep midfielder of Scotland Fletcher when they had the ball in the deeper areas while the other midfielders were oriented on their markers. Scotland's centerbacks passed the ball laterally in open of open spaces which failed to open. Italy allowed them to keep it in their first line but whenever the ball was played vertically or diagonally into a higher player they would rush aggressively to cut out options. A backward pass will also trigger them to put pressure on the ball carrier.
Bernardeschi: "Conte asks us to pressure our man, to create an imbalance in numbers. He wants huge concentration when defending." 
Now to the other side of their play, the offense.
As seen in this Expected goals plot by 11tegen11, the Italians had a high amount of shots, most of them however were not from good areas. Candreva in particular got the ball in good positions but wasted a lot of attacks by poor cross and shot selections. Another problem they faced was receiving the ball in the right areas. De Rossi, apart from a brilliant pass in the build up to the goal wasn't very creative with his passing in the deep lying midfield role. Giaccherini and Florenzi also didn't involve them selves much in build up and were often bypassed, meaning there were few central connections and combinations. In the end, there were good signs for Italy in their defensive game where as their already known attacking problems were still evident.