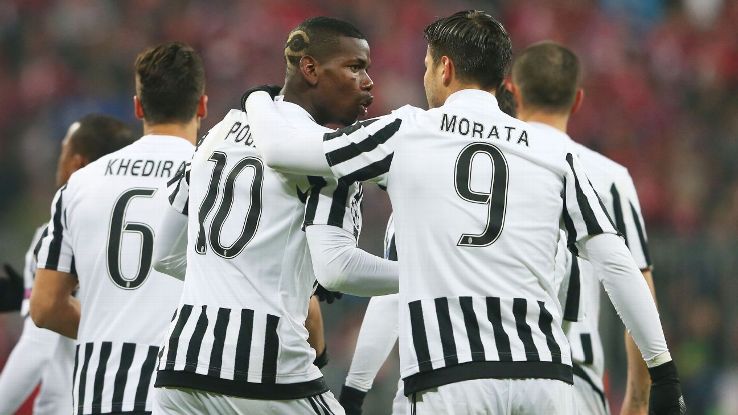 At halftime the opinion was Guardiola is overrated and bald, and Allegri is producing another tactical masterclass. Juventus despite being in last year's Champions league final were not considered favorites in their tie against Bayern. Coming into the game with the previous 2-2 draw(Two away goals for Bayern) and injuries to their key attacker Dybala, midfield metronome Claudio Marchisio and the Chiellini, the odds were against them.
For Bayern, Kimmich and Benatia starting as the central defensive duo with Alaba and Lahm in the fullback spots. Alonso operated as a single pivot, ahead of him was Vidal in the left halfspace and further ahead was Muller on the right. Ribery and Douglas Costa started wide with Lewandowski leading the line.
Allegri's Juve lined up in a 451/541 hybrid. The defense consisted of Bazargli, Bonucci and Evra who had an interesting role playing as a third centerback or a fullback depending on the phase of play. In their defensive shape Lichsteiner, Bazargli, Bonucci, Evra and Alex Sandro operated as a five man defense, ahead of them was Cuadrado on the right, Khedira and Hernanes central with Pogba occupying the left halfspace/left wing. Morata operated as a counter attacking lone forward.
In pressing Juve's system looked entirely different. Pogba who in the defensive phase played as a wide midfielder supported Morata in Juve's aggressive high-press in a 4-1-3-2/4-3-2-1/4-3-1-2 shape. Cuadrado on the other side tucked into a more central role in press as Juventus looked to deny Bayern vertical access into the central areas from the back. Cuadrado in most instances remained very narrow and this opened up a diagonal passing lane to Alaba from the centerbacks, however as soon as the ball went to the Austrain, Cuadrado will sprint quickly to pressurize. Khedira was very proactive in his pressing and played higher than Hernanes who was deeper and monitoring Muller's movements between the lines. Khedira would in some instances be as high as the edge of Bayern's box in the high press to man mark Alonso who dropped deeper to create a situational 3v2 numerical advantage with Pogba and Morata both occupying the centerbacks. Juventus had very strong man-oriented movements, starting from their last line of defense. The centerhalves pushed as high as the attacking third in Juve's press. In some instance in the video, Bonucci pressed very high to win the ball, Evra did the same on Muller too in some instances at the beginning. It was a high risk approach but the intelligence of Juve's players made it very difficult for Bayern in offense and this forced many square passes in their own half. Juventus' pressing and defensive organization was too good for Bayern in the first half. Guardiola kept yelling at his defenders who struggled in progressing the ball into the right areas because of the intelligent tactics and instructions of Allegri.
"Juventus defend low with a 5-4-1, they press with a 4-4-2 and they attack with a 4-2-3-1. Systems in the future will become ever more fluid." – Antonio Gagliardi, Italian Analyst
 In the end Bayern were too strong for Juve with Pep saying the result wasn't due to tactics, despite altering the shape and personnel but rather because of fatigue to Juve's defenders and emotions. Tactically it was one of the games of the season.