Raul Bobadilla's wonderfully executed backheel at the Allianz Arena settled the Bavarian derby between Augsburg and Bayern. The goal was crucial to Augsburg's European football aspirations, and also highlighted the tremendous work that has been going on at Augsburg since the turn of the century.
Fourteen years ago, Bayern defeated Valencia to win their fourth European title after a thrilling 5-4 penalty shoot-out. While  the Bavarians celebrated their success, city rivals Augsburg were floundering in the eight tier of German football. The club had reached a new low struggling with finances until current chairman Walther Seinsch took over.
15 years on, the club have achieved European football for the first time in its history under the relatively unknown Markus Weinzierl. Even more astonishing is they achieved this with the second smallest budget in the league. Markus Weinzierl was appointed as Augsburg manager after previous manager switched to the capital to manage Hertha Berlin. After a poor start to his inaugural managerial career, Augsburg found themselves odds-on to get relegated. The Augsburg board however kept faith with the young tactician, who turned it around in the second half of the season, in which there was a change of formation, to ensure another season in Germany's top flight.
Weinzierl has maximized the ability of the squad and has got them performing at a consistent level. Augsburg like to play attractive football. They like to circulate the ball with their technical midfielders in their area. They like to pressurize opponents and force errors. What they don't like to do is – draw.
Augsburg's stats are interesting. They scored forty-seven goals in their thirty-four matches in 13-14, and conceded forty-seven. They scored as many goals(43) as they let in again in 14-15. That is, in the last two seasons, Augsburg have had a goal difference of zero. They also have as many wins(15) as defeats this year. Their 4 draws is the least in the Bundesliga.
Checking up on the Bundesliga table after the last round of matches, Augsburg's end-of-season position despite losing 15 games(out of 34) seemed weird. Then I remembered a famous quote from the obsessive Paco Jemez.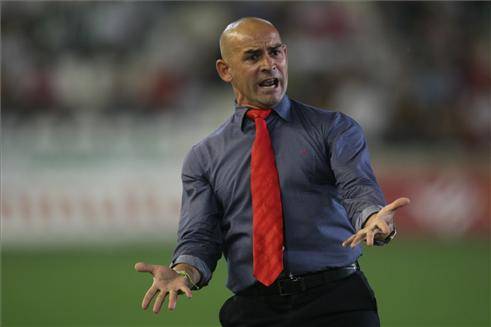 "For a team like ours, whose aim every season is to avoid relegation, draws aren't very useful. Last year, Real Valladolid drew 15 games and were relegated. The sums are very simple: teams from the middle of the Liga table to the bottom lose a minimum of half their games each season, so you only have 19 games left. If you draw 14 of those 19 games and win just five, then you get 29 points, and you go down. So draws are no use to us: we either win or lose. And with that attitude, we win lots of games – we win 14 or 15 games a season, and that helps us complete our objective each year."
In his three seasons at the Club, Weinzierl's Augsburg have recorded only 19 draws, in 105 games. Their all or nothing approach works for them, and their 8th and 5th placed finish in the last two seasons backs that. 
Freiburg were relegated with 14 defeats, while Augsburg finished above the likes of Dortmund and Schalke in 5th with 15 defeats. Augsburg however won twice as many games as Freiburg and not only ensured safety which was their early season target but achieved their highest ever position.
So was Paco right? Weinzierl seems to think so.