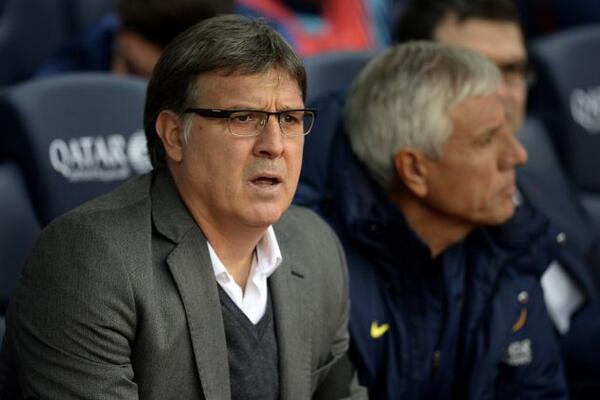 On the eighth match-day, Futbol Club Barcelona lost at their own game. No I'm not talking about the actual match, I'm referring to the more important one; The possession game. Barca won 4-0 by the way for those who care about that sort of stuff. Why is this big news then? At Barcelona, ball possession is the eleventh commandment. When Guardiola tookover, Barcelona had just finished 18 points adrift of their arch-nemesis Real Madrid. With the formation of triangles, lots and lots and lots of fancy ones, Pep built a squad which not only dominated the scorelines, but also the entirety of games, with a couple of midgets running the show. Telegraph writer Steve Wilson described it perfectly as strangulation by triangulation.
For the first time in 317 games, steming back to the Frank Rikjaard era, when Barca lost 4-1 at the Bernabeu, the Catalans saw less of the ball than their opponents. They won 4-0 though but who cares? Barcelona's inability to control possession was evident in Valdes' distribution of the ball against Rayo. The building block of most Barca transitions in the past started from the goalkeeper, Valdes. But Valdes' passing on the night showed how Barcelona failed to build from deep, with constant hoofs up the field. He completed just 26% of his 'passes'. Yeah lets call them passes.
This immediately led to an uproar in the media, with many pundits and articles focusing on how Tata Martino's Barcelona has lost the essence of possession and tiki taka football, that had made the Catalans dominant. Rayo manager Paco Jemez had to come out and defend Tata's tactics "It was more a merit of Rayo than a failing of Barca. Last season in their ground we were very close to achieving it. When people talk about Barcelona giving up possession of the ball, I do not believe it. The proof is that before they played us they were still monopolizing the ball." Ancelotti also gave his thoughts on the game saying; "It was surprising to see Barcelona counter-attack,"
Again, Barcelona triumphed De Boer's Ajax 4-0 at the Camp Nou with the Dutch giants making 558 passes, compared to Barca's 685. That's not a bad thing, coming up against a side with a similar footballing philosophy as Barcelona right? However Tata's tactics had to be defended again, this time by Lionel Messi(I repeat they won 4-0!!); "As the games pass we will adapt further. There are games when it is better to have the ball and others in which the rival presses and you need to get out on the counter. We have the good players and the super-fast players to do so. The more variations we have, the better, There will be days when it's better to have the ball and move it around the park, and others when it will be better to park the bus and play for the counter-attack."
Following Bayern Munich's 7-0 drubbing of Barcelona, where the Bavarians had a solution for everything Barcelona threw at them, signs pointed at the need for a few tactical tweaks at Barca. Many, including some Barcelona players admitted most teams had adapted to Barcelona's style of play "It's normal to try to develop new ideas and variations," Pique said. "After many years, our opponents obviously knew how we attacked, how we moved. "Look at Alves and Alba, for example. They push a lot and some opponents would give them space down the wing, but not let them move inside. It became difficult to get in. We needed to find alternative solutions and Tata's doing that without ruining our style – we still have the same possession. We needed variations like this." Pique was right, teams adapted.
Lets take the false nine role for example. Basically, the false nine role was re-introduced by Guardiola to allow Messi find space in between the lines. The strikers Henry and Eto'o; whose main duty was to score were shifted wide, while Messi who was supposed to supply the strikers was moved into a free role. The False nine worked because defenses paid more focus to the strikers Henry and Eto'o, who weren't really playing as strikers. This allowed Messi space to weave his magic in the hole. But teams adapted. Notice how compact Atleti are restricting any space Messi could exploit in the hole in the video below.
Direct Barca
As a student of Marcelo Bielsa, whose football philosophy is fixated on swift waves of attack "once we have the ball, we try and find a way of getting forward as quickly as possible, in a vertical direction if you like", it's clear to see where Tata adopted this direct tactic from. Tata Martino shares a similar philosophy to ' the Barcelona philosophy' in terms of pressing, possession and ball circulation. What differs between the famous Pep's Barca and Tata's is the movement and purpose in their passing. With Guardiola's Barca "the idea was not to move the ball, but to move the opposition". What that means is, Barcelona will often keep possession with lots of lateral passes, which triggers the other team to press. As they press, gaps begin to open, and it's only then they make a forward pass. However in Tata's Barca, more impetus is laid on verticality(forward passing) and directness.
One of Barcelona's problems tactically last season was their speed in transitions. Against teams that played low-block(defending very deep), Barca often found it difficult to break through but since Tata tookover there's more purpose in Barcelona's game. Stats show that Barca averaged 10 shots per game last season, compared to 16 this year. Barcelona's second goal in their game vs Sevilla is a perfect testament to their direct approach this season. Within ten seconds, Barcelona had moved from the edge of their own penalty box to Sevilla's. Matter of fact this season, no team has scored more goals from counterattacks than Tata's Barca.
It was always going to be difficult to sustain the breathtaking football played during the Pep era, with teams adapting. Against compact defenses, Messi who thrives of playing between the lines has minimum space to wreck havoc, and Tata has noticed this.The counterattacking and direct nature of this Barcelona team isn't their sole tactic, it's only another variance to break down tight defenses as noted perfectly by Xavi; "Barca are not playing on the counter-attack, but for a passer like me it is always nice to find spaces [to play more directly]. The style does not change, it is all compatible." The Barcelona boss himself explained his tactics saying; "People are saying we're trying to change the style, but that's not true. We do look for alternatives".