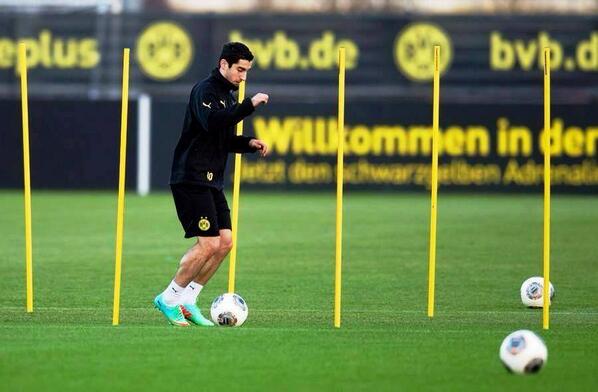 "He is a player who can really make a difference and he can continue to improve. He has settled much quicker than new additions in recent years. Ilkay Gundogan took half a season to settle and Robert Lewandowski longer than that."
Borussia Dortmund's brand of football under Jurgen Klopp, their incredible fans, and refreshing season ticket pricing has seen them become almost everyone's 'second team'. BVB manager, Klopp has revolutionized the club in such a short period, transforming a faltering Dortmund side to back-to-back German championships and an appearance in last season's Champions League final with his particularly wonderful footballing philosophy. His fantastic attitude for the game, passion and hunger for success and 'cool daddy' look has seen him become a huge fan favourite, however one aspect of Klopp's game which is really unnoticed by many is his ability to replace key players and build squads.
Dortmund's financial situation, in comparison to Europe's elite clubs isn't the most astounding. The club were unable to hold on to star players Shinji Kagawa and Nuri Sahin in the 2012 summer window, yet haven't regressed, replacing both with quality players that match their philosophy. They seem to be doing so again, this time with Henrikh Mkhitaryan, a player brought in just after Gotze departed to arch-rivals Bayern Munich.
Mkhitaryan, the most expensive signing in Dortmund's 103 year history is from a unique football family; his dad was a prolific striker before passing away at age 33, his mother is a member of the Armenian Football Federation, while his sister works at UEFA.  The 24 year old attacking midfielder is among the finest in Europe. His impressive displays and goal haul saw him become one of the most feared attacking players in Ukraine, winning the 2013 Ukrainian league golden boot with 25 goals, which is a league record by the way. His international record also makes good reading, Micki, as the BVB fans love to call him is a three-time Armenian footballer of the year and is their all-time goalscorer with 12 goals.
After Gotze departed the club, there was a need for them to sign a top class replacement, one who will match their high energy pressing system and fill the tactical and technical void Mario Gotze had left at the club. Klopp found the perfect player in Henrikh Mkhitaryan.
'He possesses an incredible combination of speed and technique. There's very, very few you can say that about.

'There's a reason why the world's best chess players come from Armenia like Mkhitaryan. Yes, other countries product chess players, but Armenia produces far more than could reasonably expect.
Strategy in football is fundamental. Many analysts believe strategy and not just players decide games. Of course having more technical players is an advantage to your strategy however the tiny margins between victory and defeat may lie in the details. As a result, managers spend a lot of time plotting and scheming on their strategy and tactics that can swing games in their favour. To see a player who pays as much attention to detail is rare, but that is exactly the kind of player Mkhitaryan is. The 24 year old himself has likened his style of play to the famous board-game chess. "I play football like chess, you have to think a lot and anticipate what could happen after you make your move. If you make a mistake, your opponent can punish and you end up losing the game. The most dangerous area is the centre, which has to be either attacked or defended in football and it's the same in chess."
Mkhitaryan a fluent speaker of five different languages wasted no time at all in settling to life in the Bundesliga. He has slotted right into the number 10 role previously occupied by Super Mario playing off the irrepressible Lewandowski and alongside Marco Reus and Kuba/Aubameyang in BVB's 4-2-3-1 formation. The Armenian is very versatile and also plays in the wide roles in certain games. The 5'10 former Shaktar Donetsk player plays a highly calculated and technical game and excels in the physical aspects also. Mkhitaryan is the hub in the middle of the pitch for Dortmund that links the midfield and attack. While Sahin and Gundogan thrive in the deep-lying playmaker role, the Armenian does most of his work in the final third. Mkhitaryan is deadly in transition and between the lines, and is one of the best counterattacking players you'll find. His amazing athleticism can see him turn defense into attack so quick, which is a prominent feature in Dortmund's game. The former Shaktar star is very vertical in his football approach. Often looking to run in behind with or without the ball.
One fundamental principle of Klopp's philosophy is deploying three highly technical players behind the impressive Lewandowski in a 4-2-3-1 formation. Reus-Gotze-Kuba, the trio that led BVB to the Champions League had something similar between them. Aside their apparent talent, all three attacking-midfielders were highly energetic players who pressed up the pitch to break opposition attack, effectively converting defense into attack. "gegenpressing is the best playmaker there is" – arguably Klopp's most popular quote typifies their high pressing system to create chances. Dortmund currently hold the record for the most tackles in their opponent's half in all of Europe's top leagues this season with 67.
Mkhitaryan has slotted right into the fray, his workrate and undoubted ability has seen him fit into Dortmund like a glove.
Mkhitaryan's stats make good reading. 4 goals and 5 assists in 14 games this season, averaging 2.4 key passes per game with a pass success rate of 80%. The Armenian has certainly fit in at Dortmund like an 'arse in a bucket'.